10th European Nutrition Conference to be held
13-07-2007 - Paris
Dear Colleagues,
On behalf of the Federation of the European Nutrition Societies (FENS) and the
Union Fran?aise pour la Nutrition et l?Alimentation (UFNA), we are proud to
announce that the 10th European Nutrition Conference will be held in Paris from
July 10 to 13, 2007.
France is a major European crossroads. It is an ideal place to bring together
nutrition experts from countries of Northern and Southern Europe not
forgetting those colleagues from the Developing Countries who have worked in
our laboratories.
With more than 2.5 million inhabitants, Paris is one of the most attractive
capitals in the world. It can be easily reached by any means of transportation.
Although resolutely looking towards tomorrow?s technological, social and
cultural changes, Paris, has always been associated with History. Paris, the ?city of
light?, has such a tremendous heritage in historical, cultural, architectural and
artistic ventures, makes that nowhere else will you find finer monuments,
museums, and of course fashion, food and wine.
The Congress will be held in Paris' finest conference centre, the Palais des
Congr?s. It is an ideal location, accessible by direct non-stop airport shuttles, only
a few minutes from the Arc de Triomphe and the Champs Elys?es, and within
easy walking distance of hundreds of restaurants and many hotels. The
Organising Committee will do its utmost to ensure that you enjoy a happy and
productive congress and looks forward to your active participation. We are
convinced that your stay in Paris will be academically, educationally and socially
rewarding.
We look forward to welcoming you in Paris to celebrate the 10th anniversary
of the European Nutrition Conference.
www.fens2007.org/
News
---
In evidenza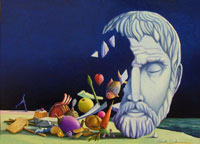 "L'informazione presente nel sito serve a migliorare, e non a sostituire, il rapporto medico-paziente."
Per coloro che hanno problemi di salute si consiglia di consultare sempre il proprio medico curante.
Informazioni utili
Ricette a zona

Tabelle nutrizionali

Tabella composizione corporea

ABC della nutrizione